AI continues to disrupt retail and e-commerce businesses. Precedence Research predicts the value of AI in e-commerce reaching nearly 37 billion USD by 2030.
For retail and e-commerce businesses around the world, AI can be a major decider of market leaders for years to come. Companies that capitalize on the boundless opportunities brought by AI and its applications will thrive. Those who fail to see the value of AI in e-commerce will get left behind.
Challenges faced by e-commerce businesses in 2023
Rising customer expectations with rapid technology advancements. Some online store owners struggle to upgrade or adapt.
Highly competitive market requires a successful marketing strategy for your products.
Struggle to retain customers or reach new customers.
Cybersecurity attacks and leaks put trust at risk.
Finding reliable technology partners can take time and effort.
AI in e-commerce
AI-enabled conversational chatbots
AI-powered chatbots answer questions, offer relevant information, and recommend appropriate products/services to customers. They help users in real time and provide them faster and more interactive experiences. 24*7 online availability means you are always connected with potential customers. Chatbots are also used to prompt passive users to engage more and convert.
Highly personalized recommendation systems
A recommendation system is designed to suggest specific products to customers in a specific demographic. ML powered personalized recommendation systems do this with a high level of accuracy and is a great example of advanced AI in e-commerce. Using collaborative filtering, content-based and intent-based recognition these recommendation engines can boost product sales, improve engagement, and deliver faster time-to-cart for e-commerce businesses.
Better retention through AI mobile applications
Customer retention is a major goal for online businesses. Market experts reveal that repeat customers tend to spend more, are more likely to refer your business, and cost significantly less than new customers. It can only take one bad experience for new customers to look for alternatives compared to returning customers. An AI-enabled mobile application helps you gain better customer retention and reach deeper into your target audience.
Optimization for increased volume of voice searches
Providing hands-free shopping has been a priority for online retailers worldwide. Voice search or commands to purchase goods and services online might be the future of e-commerce. It is gaining popularity and most companies are aiming to implement voice searches for decreased time-to-cart. For customers, voice-enabled e-commerce platforms provide convenience and a better shopping experience.
Enhanced Cybersecurity
Cyber attacks of different kinds have been a major concern. Customers using your platform must be able to trust you with their information while conducting a transaction. Failing to ensure security hurts your reputation, trust and retention. Capgemini shows that 69% of organizations conducting business online think AI is necessary for handling and preventing cyber attacks. Online businesses can leverage AI-based tools to detect threats, protect their systems, as well as minimize risks of future attacks.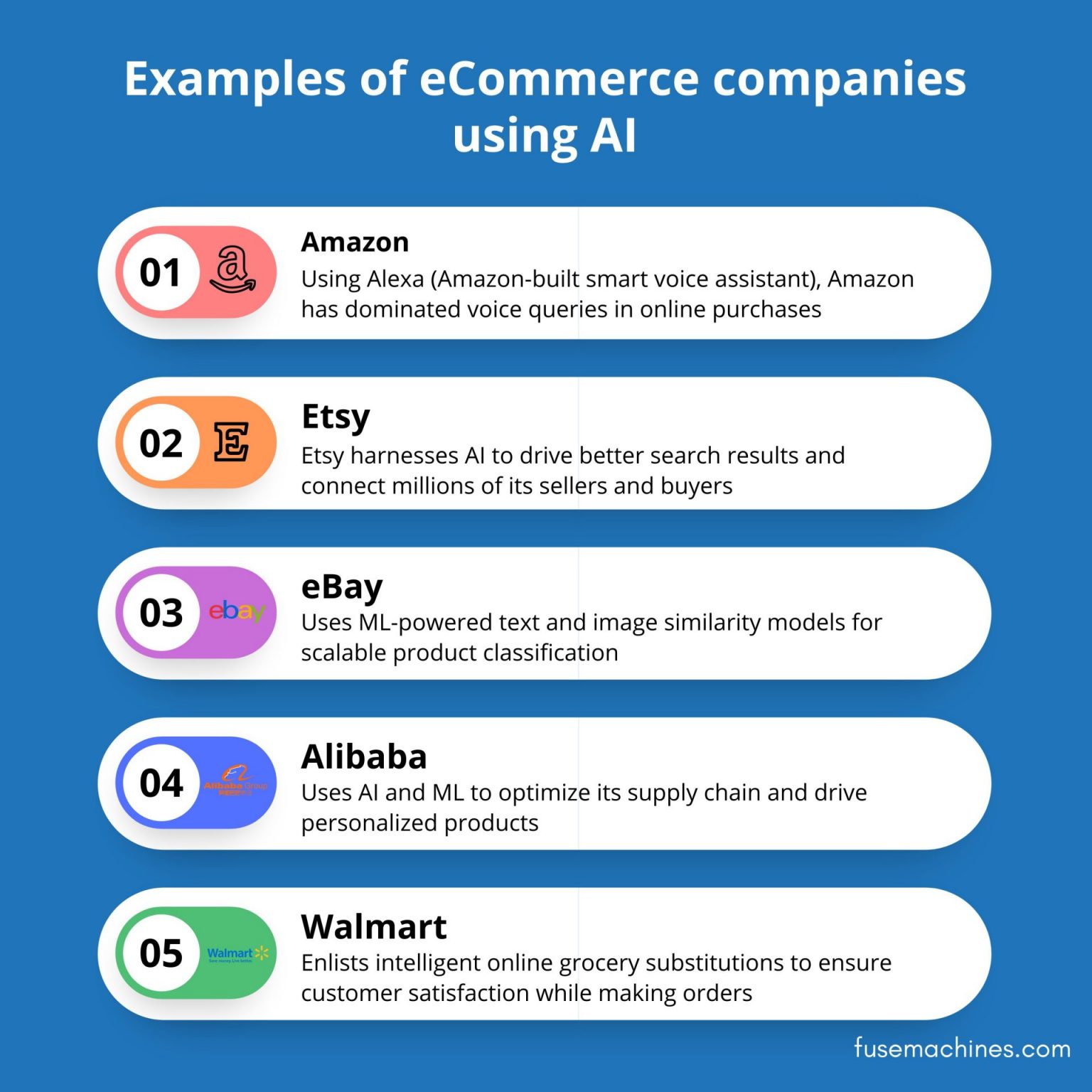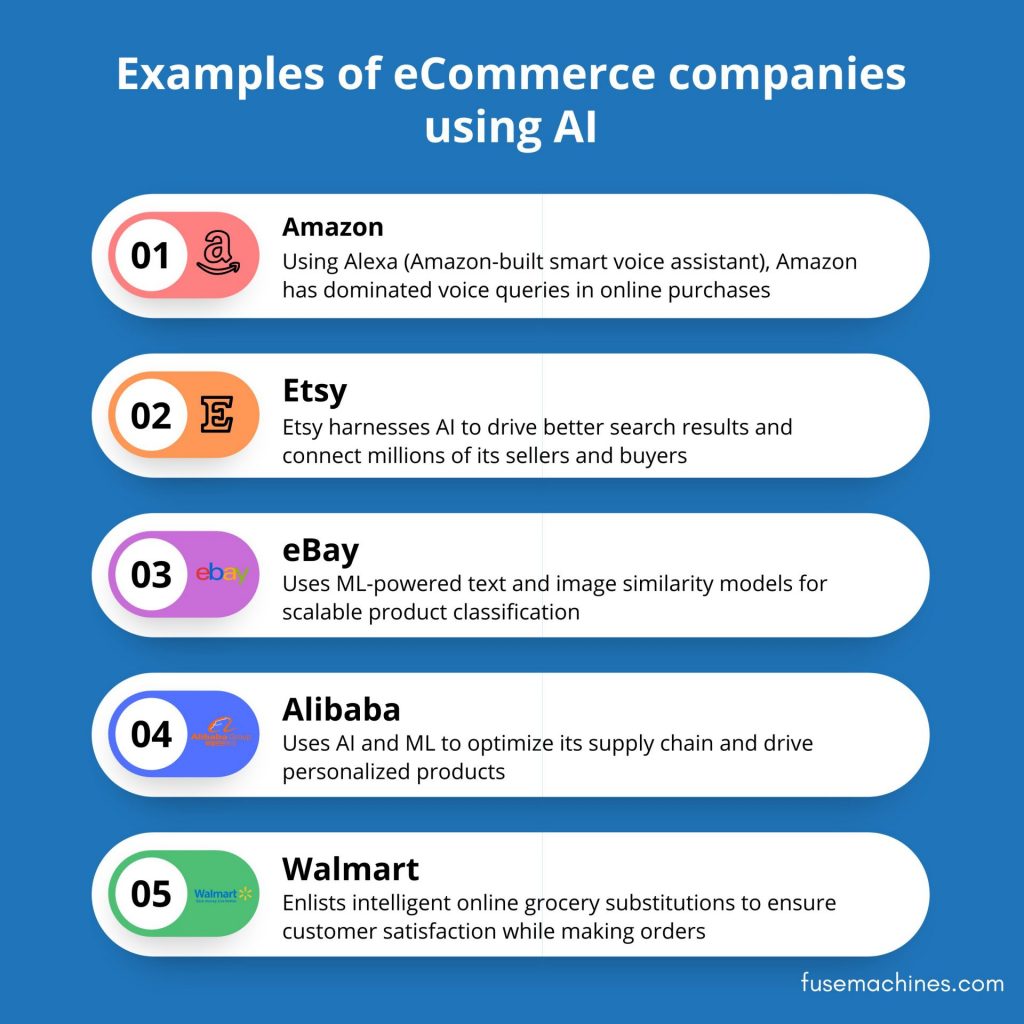 Examples of AI in e-commerce
1. Amazon
Although Amazon has big investments in personalized product recommendation engines, the winner is Alexa-enabled voice shopping. With Alexa (Amazon's own smart voice assistant), Amazon dominates voice queries in online purchases.
2. eBay
eBay uses ML-powered text and image similarity models for scalable product classification. It also allows sellers to filter out backgrounds using computer vision and image processing algorithms.
3. Etsy
Etsy harnesses AI to drive search results and connect millions of its sellers and buyers. The company built its own model using text-based analysis and image recognition to organize the long tail of creative products.
4. Walmart
Walmart enlists intelligent online grocery substitutions to ensure customer satisfaction while making orders. It has helped millions of customers make smart substitutions in case of out-of-stock products.
5. Alibaba
Alibaba uses AI and ML to optimize supply chain and drive personalized products. It also has an intelligent recommendation system to drive sales and keep customers engaged on its Tmall site or mobile app.
Bottom line
With AI in e-commerce, you can compete in the market with the best technology and intelligence. AI and ML-powered chatbots, mobile applications, and recommendation engines have been crucial. Fusemachines can help your e-commerce business thrive through our bespoke AI solutions. Click here to connect today.
Want to learn more about Fusemachines? Visit our website.