AI is extending beyond the research lab and into everyday life—from navigating cities and ride shares to managing energy networks. AI can play a role in environmental sustainability and related business goals. According to a PwC and Microsoft study, by 2030 the use of AI in environmental technologies could be worth $5.2 trillion USD (4.4% more than business as usual).
The same study also shows that AI-driven solutions will reduce global greenhouse gas emissions by as much as 4% in 2030, an amount equal to 2.4 Gt CO2 equivalent—the annual total of emissions from Australia, Canada and Japan combined. AI has the potential to be a powerful force in sustainable development. Here are five ways AI can help achieve environmental sustainability.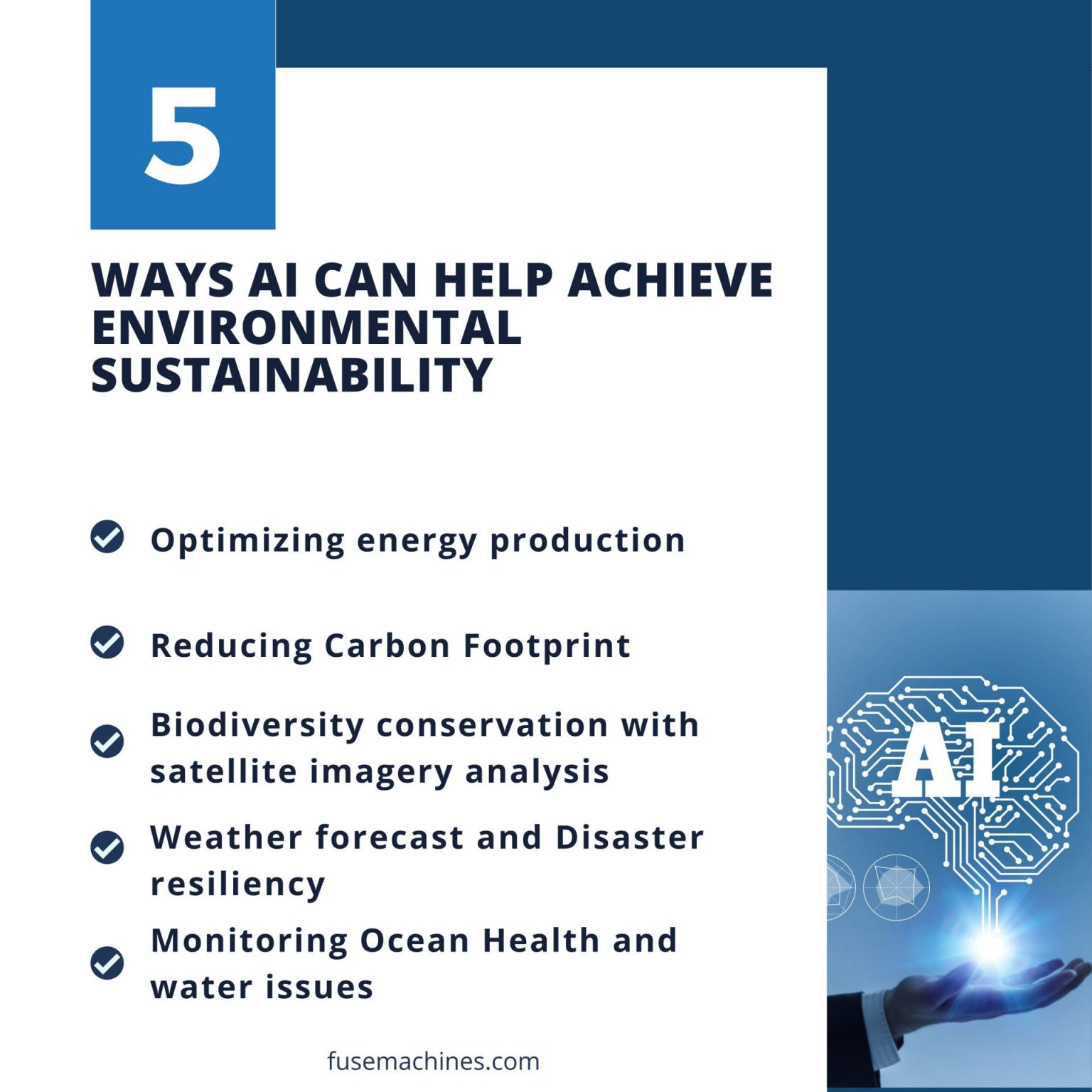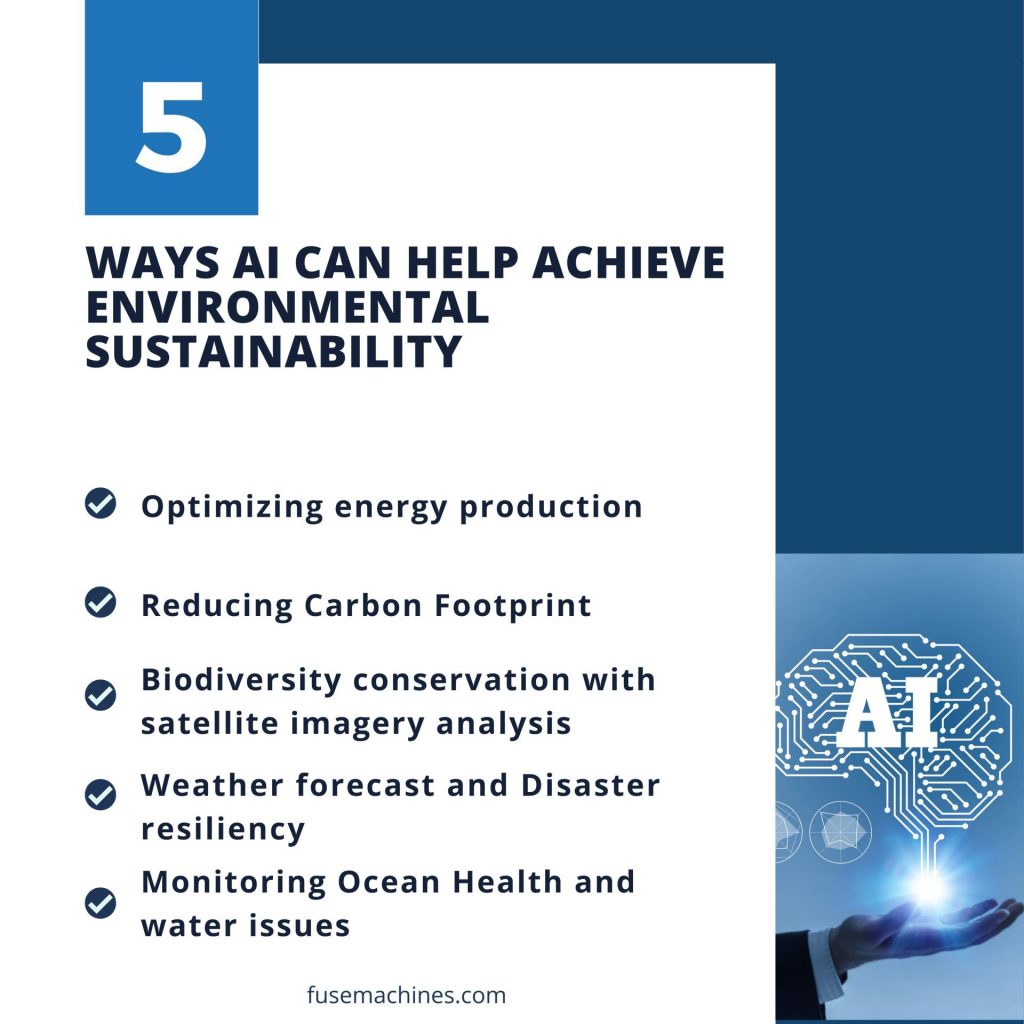 Optimizing energy production
The incorporation of AI into existing practices maximizes the benefits of renewable energy methods such as solar panels and wind turbines, making these solutions more efficient and cost-effective. Smart sensors and meters can collect data and monitor, analyze, and optimize energy usage in buildings.
Machine learning optimizes energy generation as intelligent grid technologies give energy providers a better understanding of power usage and enable real-time adjustments for greater efficiency. Thanks to IoT devices, clean energy can be delivered with less waste in transmission lines, lowering our dependence on fossil fuels.
Reducing carbon footprint
Every year, billions of dollars are wasted on improper disposal or recycling of used parts from discarded electronic devices. To address the issue of electronic waste, Apple implemented a recycling program that uses materials with low environmental impact.
The integration of hardware and software can benefit the environment by helping companies use AI and IoT to reduce e-waste. With the right techniques, discarded devices can be refurbished and reused. This saves millions of dollars as businesses manufacture products but only if you have a system to monitor this hardware.
An efficient Internet-of-Things-based artificial intelligence system can alert consumers if their car is at risk of failure and guide them through the replacement process, reducing carbon footprint.
Biodiversity conservation with satellite imagery analysis
Numerous reports describe how AI can be used to catalog biodiversity and protect threatened species. IoT and AI can reduce poaching by monitoring animals at risk. Blue River Technology uses AI to detect invasive species and other changes in biodiversity. Using satellite imagery in conjunction with AI, researchers can detect changes in land use and vegetation.
IoT and AI track patterns in animal migration, mating, and feeding. Computer vision enables non-invasive monitoring. With AI and vision techniques, scientists can detect animals in images captured by cameras placed to track their movements. A US based company has used computer vision to detect rhinos, cheetahs, and other endangered species' footprints to identify, track, and determine circumstances that threaten them.
Weather forecast and disaster resiliency
Artificial intelligence, sensor platforms, drones and other technologies can predict natural disasters such as earthquakes or floods. Proactive technology can help governments and concerned agencies take timely actions, enabling early evacuations when necessary. Meteorological companies, tech firms and insurance giants are combining AI with physics-based modeling methods to show the impact of extreme weather events on infrastructure and advise disaster risk management strategies.
Monitoring ocean health and water issues
Trash levels in our oceans are higher than ever before. Autonomous, AI-powered trash trucks are helping us clean the oceans. Machine learning can help track the changing conditions that harm the ocean, such as illegal fishing and industrial effluent discharge.
AI-generated data can help scientists learn about species and habitats that are difficult or impossible to reach. It can also be used to track down illegal fishing practices. AI-powered robots can monitor ocean conditions, such as pollution levels, temperature and pH.
Use cases of harnessing AI for environmental sustainability
In Google's data centers, machine learning cuts energy consumption by almost 40% ( approx. 189 terawatts annually).
SkyTruth, Oceana, and Google partnered to create the Global Fishing Watch platform which uses ML to monitor and control IUU fishing.
Plantix is an app built by PEAT GmbH to detect pests, plant diseases, and soil deficiencies affecting plant health using image recognition.
Bottom Line
Technologies such as artificial intelligence have begun to address some of the world's biggest problems—now it's time for your organization to pick up where they left off.
Fusemachines can help you identify and implement the ideal, sustainability-based AI solutions for your business.
Want to learn more? Explore our services here.