The nature of work for almost all professions is shifting towards technology each year and AI has the potential to reshape every industry. The demand for AI expertise is also growing. Due to this, the world is facing a reskilling emergency as per the annual reports by the World Economic Forum. Investing in employees to learn AI can yield amazing results if your business is AI-dependent.
Even for established professionals, there are always skills to learn and techniques to adopt. Artificial intelligence (AI) skills such as machine learning, data science, AIOps, and deep learning tend to be the most in-demand in 2022, according to Bernard Marr & Co. For full-time professionals, business owners, or tech enthusiasts investing time and effort into learning AI is an excellent decision.
It is vital to know what it takes for professionals to learn AI now at individual and organizational levels.
Why every professional must learn AI
1. Highly valued skill in demand across several industries
AI systems are the catalyst for digital transformation and are among the most valued technology. Industries like healthcare, fashion, trade, finance, and more now have openings that seek AI expertise. To learn AI now means to garner several highly valued and sought-after technical skillsets that can be applied directly to aspiring businesses worldwide.
2. Make better AI-based business decisions
With the help of emerging intelligence technologies and applications, companies can embrace AI in their decision-making. In an AI-driven business, complex problem solving, strategic changes, performance assessments, and even customer-based decisions become more reliable and efficient. A conceptual understanding of AI enables you to rely on AI-based decisions for your business.
3. Identify AI solutions to modern problems
There are still misconceptions surrounding AI in business like thinking of AI as a plug-and-play technology or considering it completely autonomous. A knowledgeable professional can better understand AI's prospects and limits and can identify AI-integrated solutions. Solving large volumes of customer queries with chatbots, preventing frauds with advanced deep learning algorithms, and regulating content with natural language processing are some.
4. Building & outsourcing AI/ML teams
Gartner reported that less than 53% of companies were successful in transferring their AI concepts to production. A common deterrent was a lack of knowledge, training, and understanding of the technology at the higher-management levels. Learn AI and be better equipped to build and outsource AI/ML teams to complete AI projects for your company.
5. Left behind, If you don't learn AI now
If you have an opportunity to learn AI, you should do it. PwC's Annual Global CEO Survey showed that more than 60 % of the top business CEOs worldwide believe that AI will have a larger impact than the internet. If you slack off now, the competitors will get ahead of you and your business.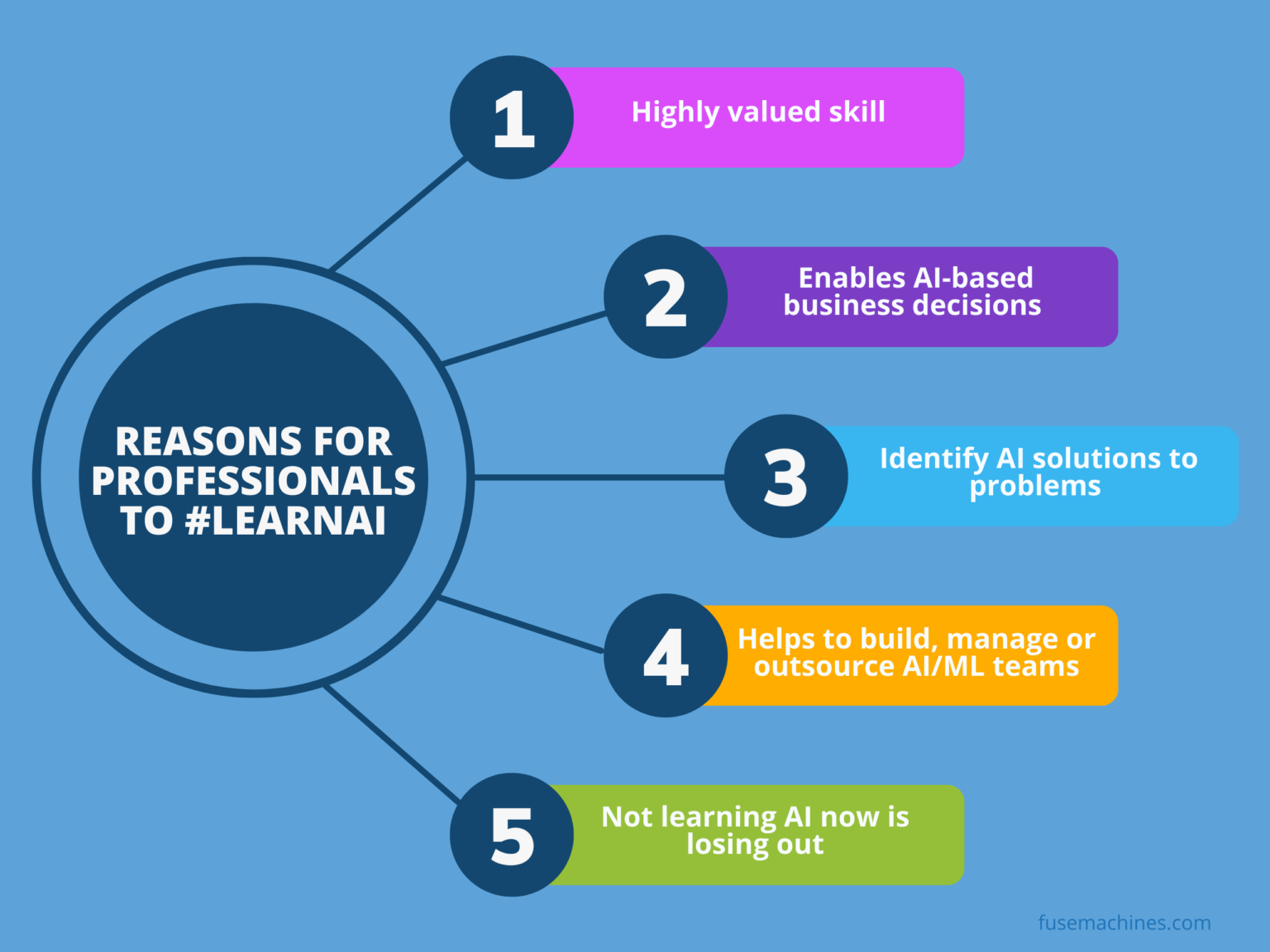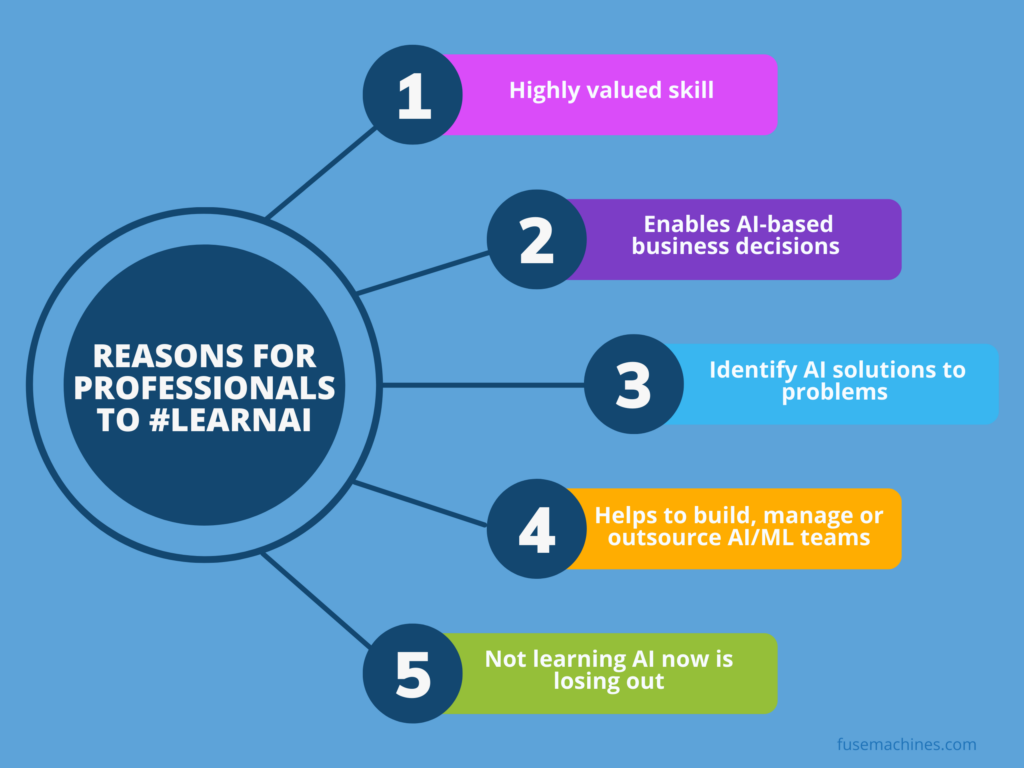 Choosing the AI courses best fit for you
You can find dozens of courses to learn AI online. Not all of these will fit your purposes, and you can easily end up paying thousands of dollars for a wasted effort. Here are some things to consider while choosing the online AI courses ideal for you:
– Tutors/professors
Always check the credibility of the professors, tutors, and teaching assistants (TAs) before buying it. A sound teaching background and good professional experience are necessary for AI courses.
– Platforms in use
The online learning platform must have an easy-to-use UI, tools to support accelerated learning, and is regularly updated. Fuse classroom is one such platform used by 40,000+ students regularly.
– Session Time and course length
The time when the sessions take place is a major contributing factor for full-time professionals. Make sure the AI courses don't necessarily obstruct your work-life balance.
– Clear pricing
Some courses might have hidden charges for assessments, materials, or certifications. Learners should know about the pricing plans and payment policies beforehand.
– Assessments and post-course support
AI Learners must be aware of the additional programs and support available after the completion. This might be a guidance session for business owners on how they can implement AI in their companies. Similarly, for working professionals, this might be a networking session with experienced AI talent.
– Credibility of the course provider
Checking who's providing the course is amongst the first things you do. Spend some time looking at the testimonials of past learners and decide if it is the best available for you.
Bottom line:
An excellent understanding of artificial intelligence, no matter what phase of the career or industry you're in, is always valuable. A tailor-made course for professionals helps to open up opportunities for you and your business. Explore our training and educational programs, and learn why you should be acquainted with AI and its applications in the modern world.
Want to learn more about how Fusemachines and AI can help your company? Click here