On Friday, June 3rd, 2022, a few members of the Fusemachines team attended the Fonepay Digital Economy Conclave 2022. This year's conclave offered invigorating and impactful conversations around digital literacy and strategic ways to accelerate the digital movement to transform Nepal's economy.
The event brought together top ICT experts, industry leaders, bankers, entrepreneurs, policymakers, media, and all the major stakeholders under one roof to participate in conversations that aimed to address the big question of "what's next in Nepal's digital journey". The keynote addresses were given by compelling leaders, Gyanendra Bahadur Karki, Minister for Communications and Information Technology and Sandeep Ghosh, Group Country Manager India & South Asia (INSA) at Visa.
Digital technologies, typically represented by the Internet, big data, 5G and artificial intelligence, are poised to accelerate businesses across industries. For Nepal – a nation on the brink of technology-led disruption – understanding which technologies will foster value, positive impact and digital innovation has never been more crucial. To address the same, Fusemachines' Sr. Director of PR and Corporate Communications Ruchi Pandey participated in a panel at the conclave alongside Bahar Kumar, Director at Impact Hub Kathmandu and Dori Nguyen Managing Partner at Utopia Kathmandu and moderator Siddhartha Raja, Senior Digital Development Specialist at World Bank. The panelists engaged in a robust conversation on the topic of "Creating Impact That Lasts".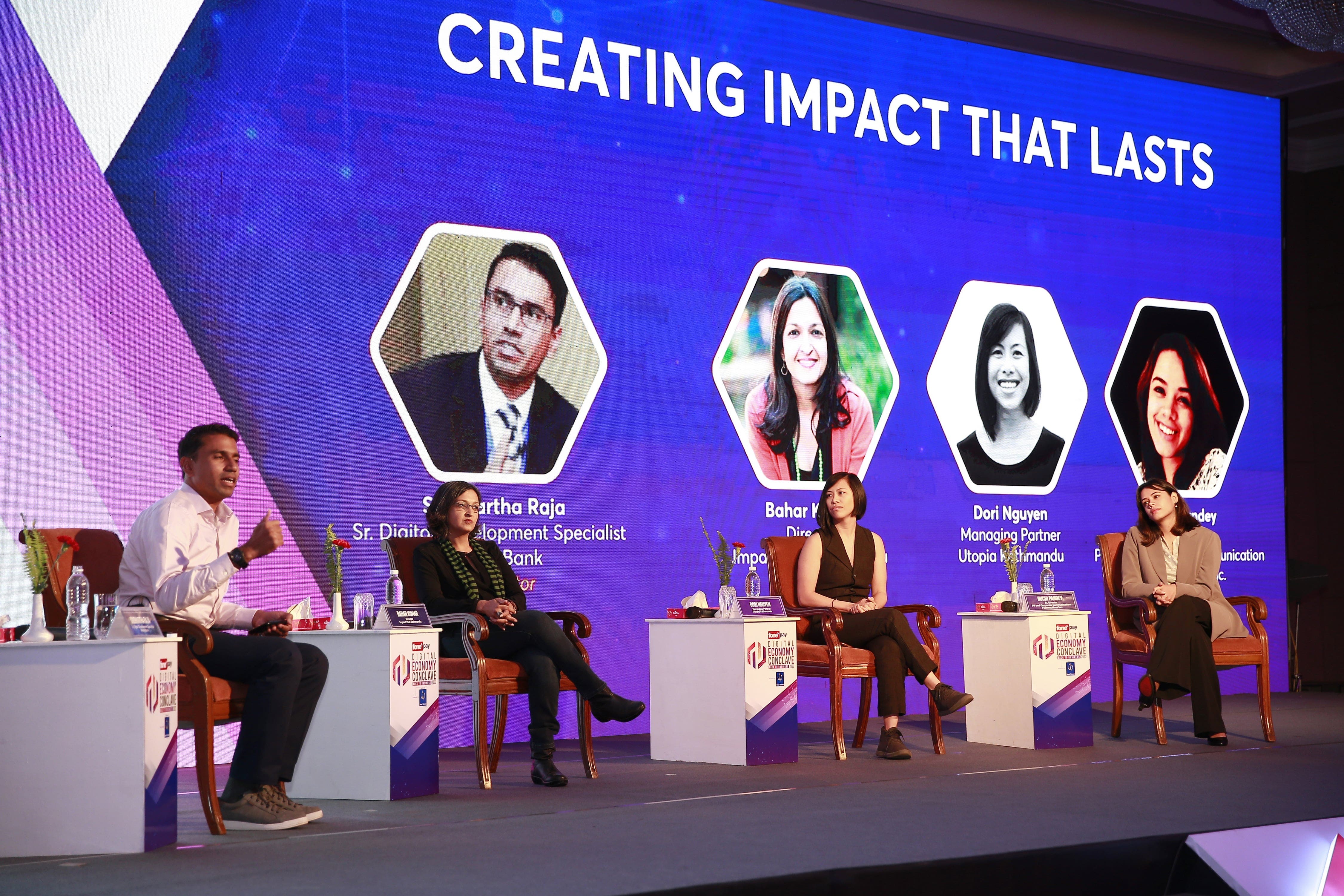 Key insights shared by the panelists include:
Role of business incubators and innovation houses such as Impact Hub and Utopia in encouraging youth to build digital solutions and develop skills and literacy to boost innovation and digital impact

Populating the tech landscape with more skilled and empowered women in the field of AI & STEM to encourage digital dexterity and inclusivity

Overcoming transformation challenges through increased access to digital devices, funding, strategic public private partnerships, critical resource allocations, promoting representation and gender equity

Impactful transformation and innovation strategies that Nepal, as a growing digital economy, can emulate from developed and digitally matured countries globally.

Embracing technology in a balanced manner to build more robust human-tech collaborations and upskilling opportunities to arm the workforce to solve mission-critical issues and advance digital transformation agendas.
Biswas Dhakal, President at F1Soft Group, presented the closing remarks with a positive and encouraging outlook on Nepal's digital economy.
To learn more about Fusemachines upskilling and digital transformation initiatives, please visit: https://bit.ly/3Mqnd9I
For a deep dive into the panelists' insights, check out the complete session here.