AI is among today's most prominent commercial opportunities. A recent NewVantage survey shows over 91% of the top businesses invest in AI, including corporate giants like Amazon, Walmart, Meta and Apple. So, why do the most successful companies invest in AI?
The answer is simple: innovation and staying a step ahead of the competition.
Companies can save time and resources while increasing efficiency with automation replacing manual tasks such as data entry, customer care, or monitoring routine transactions. A recent survey by Willis Towers Watson shows more than 57% of employers in North America want to use automation to increase productivity and performance.
Investing in AI is a necessity for modern businesses, and as with any innovation, there are pitfalls to be wary of. A reliable AI partner can prevent common mistakes. It is best to be aware and prepared before jumping into any investment decision.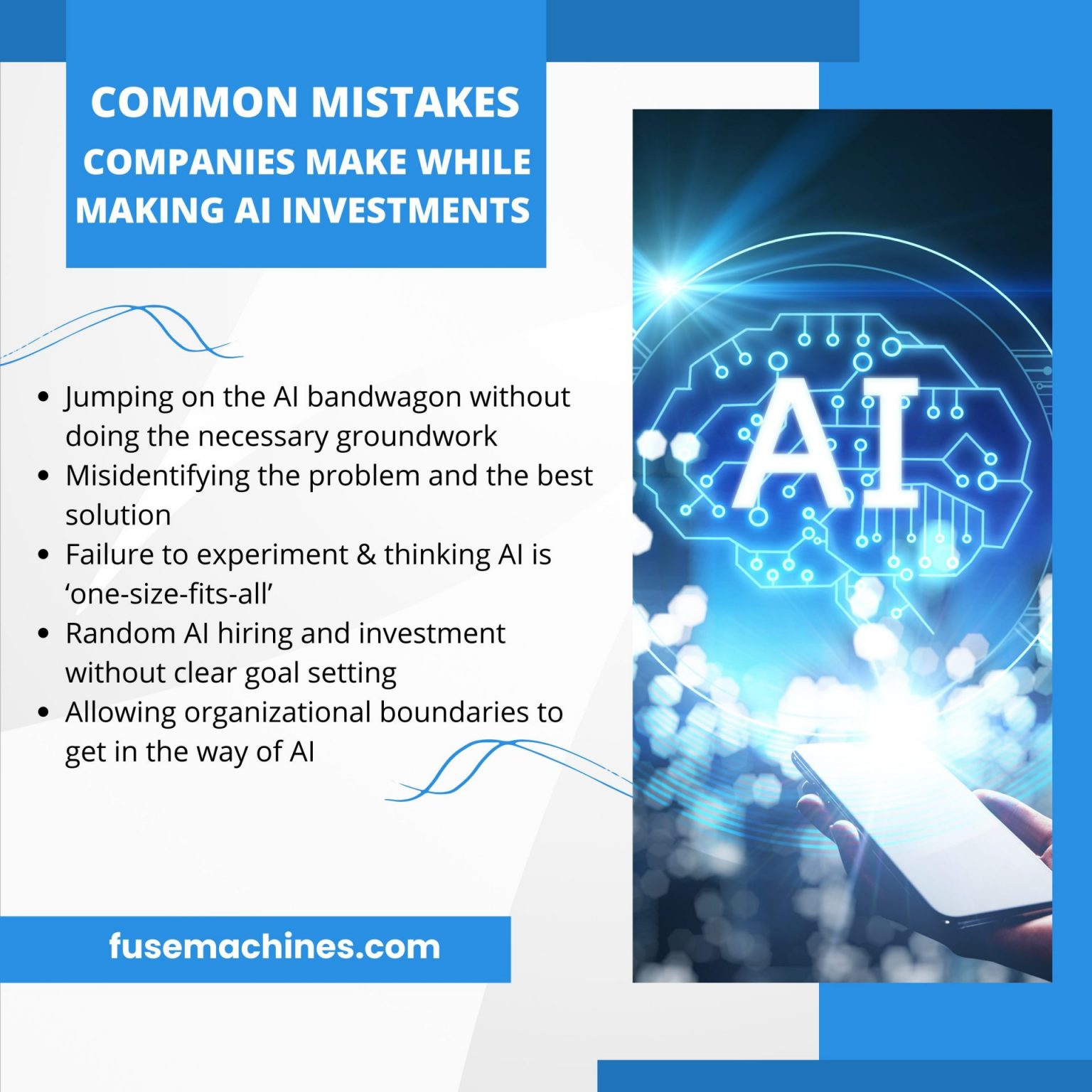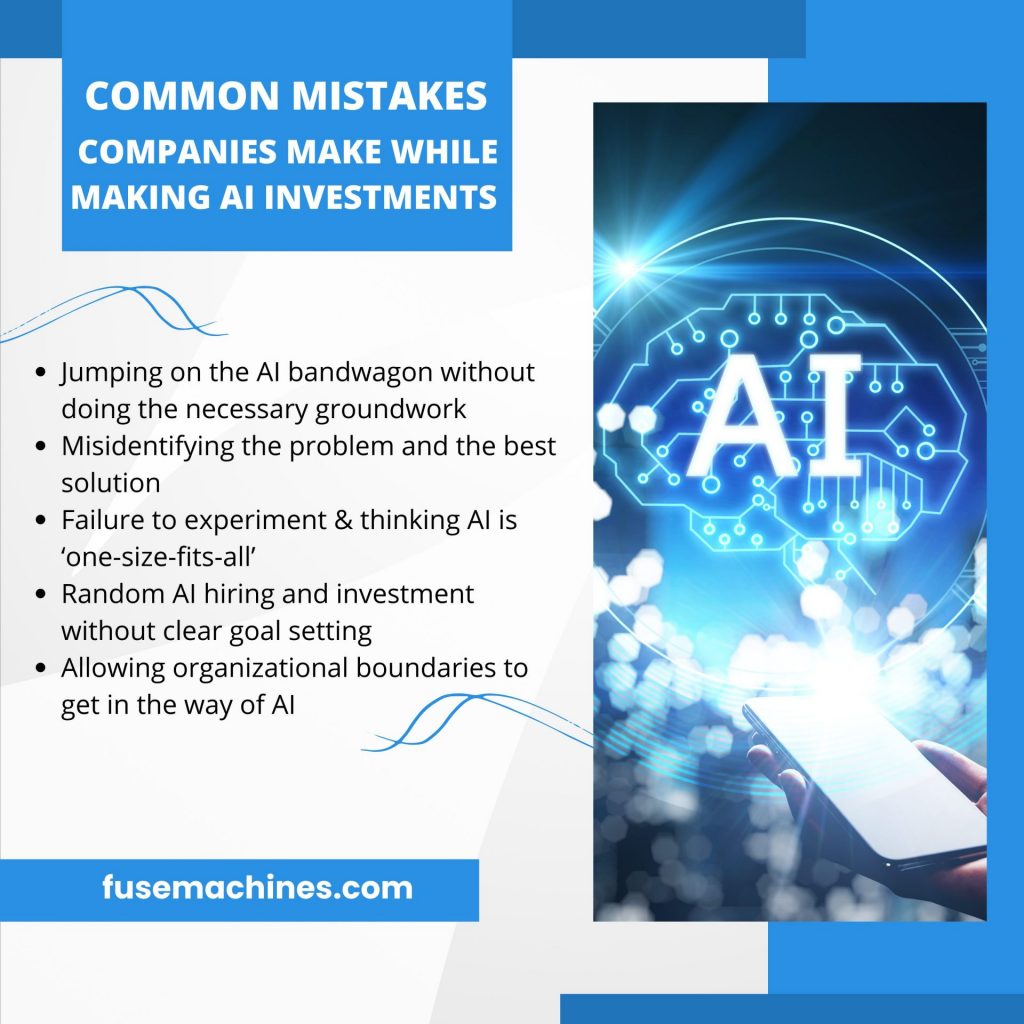 Common mistakes while making AI Investments
Jumping on the bandwagon without doing the necessary groundwork
Implementing artificial intelligence without concrete plans is a big reason investments fail. As trendy as it may seem, AI is a technology like any other, and it's crucial to have a solid understanding of its fundamentals and how it could help your business before diving in.
Misidentifying the problem and best solution
Focusing too much on trends and solutions before identifying the precise problem you want to solve with AI puts you at risk of failure. While playing with AI and its applications, some companies tend to lose sight of the core business. Before investing, it is important to understand the problem your organization is facing. Let the professionals/experts examine and do the work. Your AI team/partner should make data-backed decisions for the best solution before going all in.
Failure to experiment & thinking AI is 'one-size-fits-all'
While there are applications of AI across industries, AI is not the answer to all problems. It's a good approach for data-driven projects but might not be suited to others especially when there isn't enough data. IBM'S Watson for Oncology, a program developed to help doctors, struggled because it did not have enough data to make good recommendations. Different projects have different problems, factors, and variables influencing effectiveness. Learning from mistakes and experimenting could be key for successful AI investments.
Random hiring and AI investments without clear goal setting
Most companies prefer to work with reliable AI partners for technological needs. Others might choose to build their own AI team for security, control, and communication benefits. Getting recruitment right is imperative when building an in-house team. Building a team of data and AI engineers to complete your project can be tricky without prior experience. Working on AI projects requires investment across fields and investing without a precise goal is the last thing you want to do. Book a session with AI experts and opt for outsourcing if you are unsure.
Allowing organizational boundaries to get in the way of AI
Your business architecture needs to be suited to artificial intelligence. This means aligning value streams, business capabilities, and information to implement and utilize AI. Having a clear strategy about how AI will work in your organization should come before investing. Also, you must ensure your company culture is set up to do artificial intelligence right. For example, the customer support team must be able to share crucial data with data scientists creating models to improve customer service.
How partnering with the right AI company helps you avoid these mistakes?
– A strong AI partner will streamline operations while also upskilling the current workforce.
– Businesses get a competitive advantage when technology partners identify your problem and pitch in the optimal solution.
– You can turn to an AI partner to find innovative strategies. Handling complexity and scale is not everyone's forte.
– Keep up with the latest AI trends, innovations, solutions, and advancements with minimal fuss.
– With experts on the AI job, companies can spend their valuable time on the core business.
Click here to elevate your business with Fusemachines.
Bottom line
More and more companies are including AI investments in their strategies especially post-pandemic. AI must be adopted and embraced across the organization to generate tangible returns. Many AI-focused investment opportunities are available, and Fusemachines can help you take advantage of them.
Want to learn more? Click here.