Did you know Facebook uses speech recognition systems to create captions or that Pizza Hut uses a smart food recommendation system to display food options based on local weather? These are only some of the ways machine learning is used by businesses everyday. Machine learning (ML), the branch of AI that imitates how humans learn through data and algorithms, improving its accuracy over time, has enabled businesses to perform tasks at a scope and scale previously impossible.
Today organizations in nearly all industries use ML, from healthcare and hospitality to manufacturing, retail, finance and even entertainment. Doctors are using ML for disease diagnosis, while financial advisors benefit from ML applications that inform investments and trade. Armed with machine learning, companies experience tangible benefits and opportunities to differentiate themselves in the marketplace.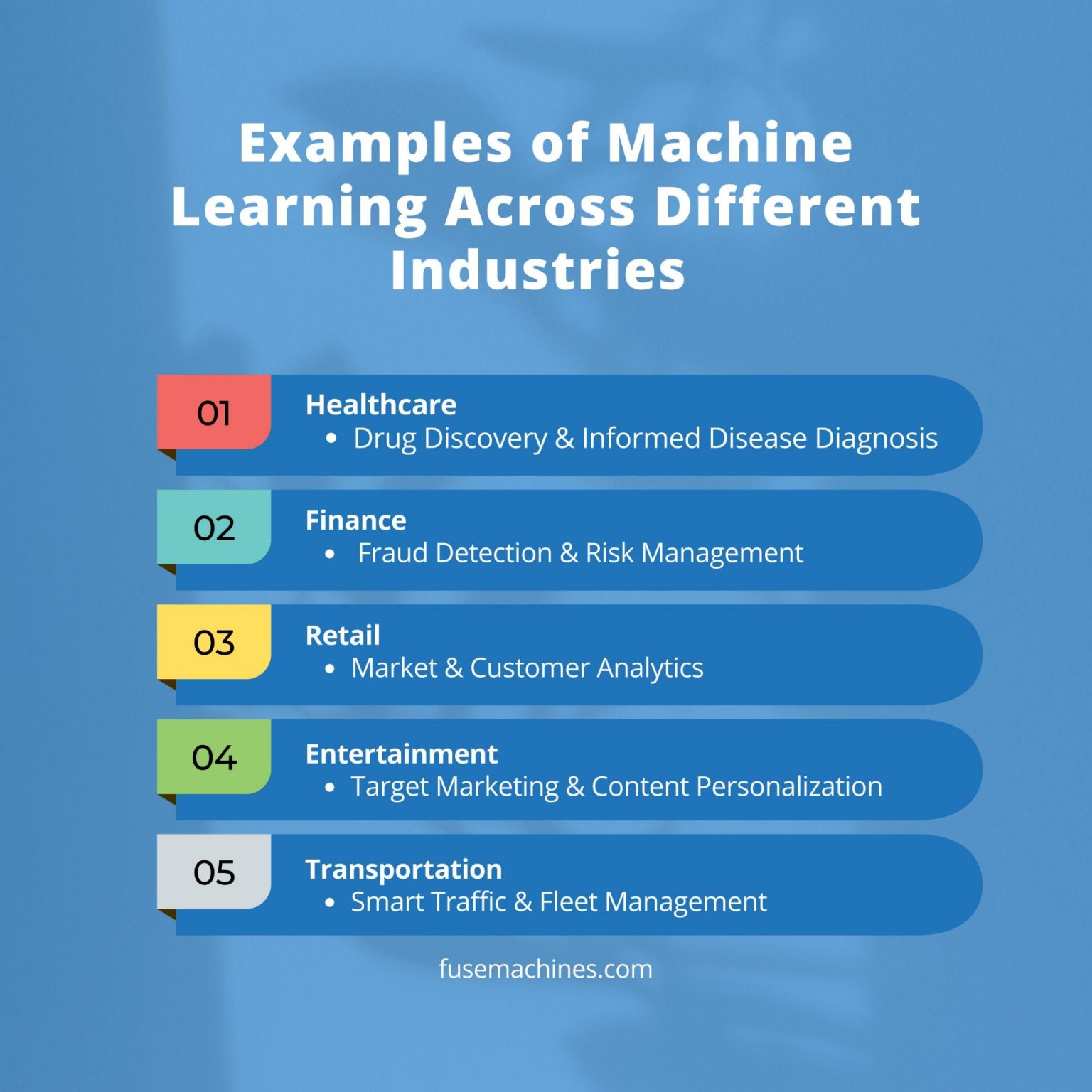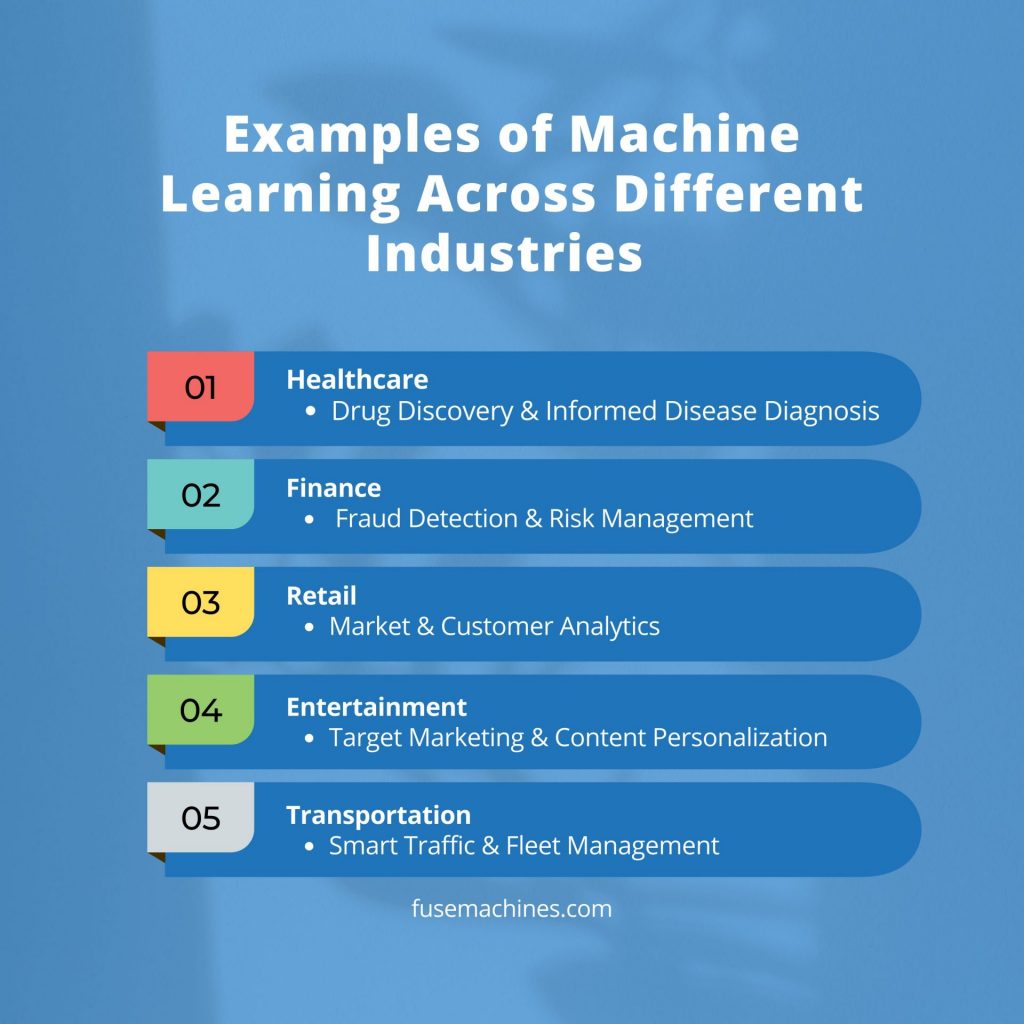 Machine Learning in Business
Improving human resources and recruitment
As today's workplaces become increasingly hybrid, HR departments must prepare recruitment, engagement, and retention strategies accordingly. Human resources has made strides with ML. For instance, ML allows HR professionals to use employee data to make well-informed decisions involving employee turnover prediction, smart applicant tracking, and job success prediction.
If you want to learn more about how AI and ML are transforming HR, listen to our latest FuseBytes podcast with David Mendlewicz, co-founder & CEO of Butterfly, an HR platform that gives managers real time insight on how their team members are feeling and provides avenues for direct and timely feedback.
Automates data entry
Given the massive amounts of unstructured data businesses have to deal with, manual data entry is becoming unsustainable. ML-powered data entry automation is the best solution, as machines don't get tired or bored, they save time and resources while eliminating human error and keeping up with industry standards.
Product recommendation engines
ML-based product recommendation engines analyze customer data to learn the types of products, services, or other offerings given audiences are most likely to buy. By linking these products with the right customer segments, businesses can drive sales while improving experiences and brand loyalty. An example of this is Netflix's personalized recommendation engine, which is core to its business strategy. According to Business Insider, ML saves the company more than USD 1 billion a year.
Data-driven financial analysis
The importance of data-driven finance has been known by banks and financial institutions for a long time. It's integral to optimizing performance with broader visibility into operations, insightful analysis, and fact-based decision-making. ML accelerates automation and allows businesses to act on real-time data, particularly important during time sensitive financial situations. ML and data-driven financial analysis increases forecasting accuracy and productivity.
Strengthening cybersecurity
Data breaches and cyber-attacks are becoming common problems for modern businesses. According to the latest IT Governance report, 35.6 million records were breached in September 2022 alone in 88 incidents worldwide. Customers want to know their information is safe when doing business online. Using ML in business helps detect threats in real time and uses behavioral analysis and automation to detect anomalies, respond to data breaches, and predict future attacks.
Predicting the customer's lifetime value
Customer lifetime value (CLV) is the total monetary value of customers to a business over time. ML models are designed to predict CLV using patterns and allow companies to make well-informed decisions, shift strategies, and allocate resources. Especially valuable for retail and eCommerce businesses, ML can also help determine the financial viability of a business model, pinpoint trends, and understand customer behavior.
Simplifies product marketing
A Hubspot survey reveals that an average marketer spends over 16 hours weekly on repetitive tasks. Automating these tasks helps marketers invest time into creative initiatives. ML tools enable social listening, image recognition, monitoring, and campaign automation. JPMorgan Chase uses an ML-powered AI copywriter to develop attention grabbing content leading to higher click rates.
Accurate sales forecasts
Accurate sales forecasting allows companies to manage cash flows and allocate resources effectively. ML and AI have transformed sales forecasting for good. By analyzing sales activity data, ML uncovers correlations and recommendations. These insights are vital to accuracy while predicting revenue and making business decisions.
Future of machine learning in business
Now is the right time to invest in ML and AI to gain a competitive advantage. ML in business market is set to grow tenfold and reach USD 209 billion by the end of 2029, according to Fortune Business Insights. Your organization could be the next to benefit from machine learning advancements. Fusemachines can help you identify and implement the ideal ML solutions for your business.
Want to learn how ML could help transform your business? Click here.
To find out more about fusemachines, contact us today.